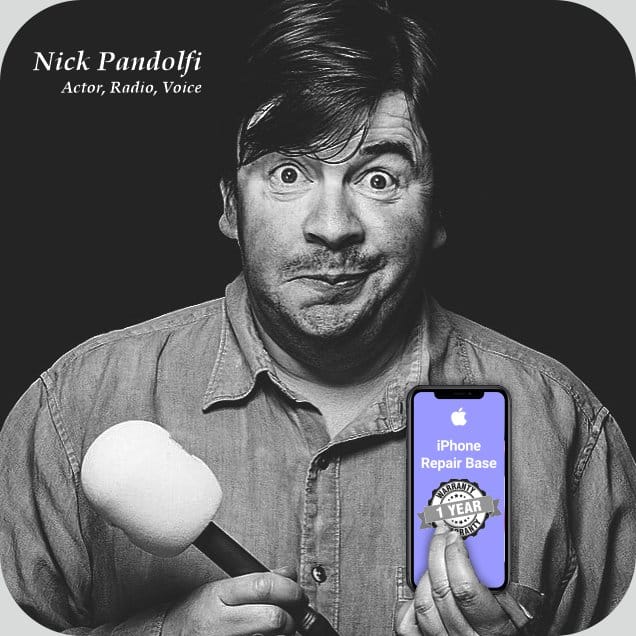 Broken iPhone? Smashed iPhone screen?
Battery Replacement? Liquid Damage?
So, we know how frustrating when something happens to your phone! The friendly team at iPhone Repair Base provides an iPhone Repair Service in Kesgrave, Ipswich.
We are professional repair specialists who are here to help.
From smashed screens, replacement of any parts, or liquid damage we have it covered!
No appointment is needed, we guarantee to use all quality iPhone parts. Which we have in stock so you can be rest assured that we can fix your phone in as little as 10 minutes.
So, to repair your iPhone just pop into our shop in Kesgrave, Ipswich at any time within our opening times. If you are not local to us or can't get to us you can order online and post it to us.
About our iPhone Repair Service
We also offer a FREE diagnosis of your phone to find out what the issue is and offer a 1-Year Warranty on all repairs.
So, although we can normally do simple repairs within 10 minutes, bigger issues will take longer. We will always tell you what the issue is and how long it will take and wouldn't do any fixes without your prior consent first.
But if we can't fix your phone, you won't need to pay a penny.
We are your No.1 choice for all repairs because we are very professional and competitive.
Contact iPhone Repair Base on 07760 275 038 or you can visit us at 21 Edmonton Close, Kesgrave, Ipswich, IP5 1HE.
IMPORTANT NOTICE ABOUT OUR IPHONE REPAIR SERVICE!
But before you bring/post to get your device fixed and it is still working, please make sure all your data is in a safe place for example an iCloud backup. Or make sure you have backed up the phone on a laptop or PC, because you don't want to lose anything.
iPhone back glass repair with a professional laser machine
When anything breaks on your phone it can be stressful especially when you pay a lot of money for a day-to-day essential.
If your iPhone back glass has smashed we are to help. We have competitive prices and in most cases with be cheaper or will price match.
Our professional team can fix the back glass instead of replacing the whole phone. We can fix this on the day you bring it to our store in Ipswich. If you are sending by post, it will be a couple of days from receiving your iPhone.
IMPORTANT NOTICE!
But please be aware that once the back glass is replaced, because it won't be waterproof anymore.
Listed below are some of the most common iPhone issues
iPhone Charging Port Replacement
When your iPhone does not charge or the charging is slow it usually needs to change the charging port. We use a genuine port for the repair. This is very important because the cheap, bad-quality port can make lots of trouble on the logic board.
iPhone Screen Replacement
Our iPhone Screen Repair service is one of our more popular repairs. When does an iPhone need a new screen?
– Scratches on the surface
– Cracked glass
– Unresponsive touch screen
Our genuine Apple replacement screen will work properly on your phone. The True Tone, the Ambient Light Sensor, and other functions will still work after the repair. The Brightness, Resolution, and Colors are the same like on the previous screen.
Battery Replacement
iPhone battery life is 2-3 years. When the phone is draining quickly it needs to change the battery. We use safe genuine Apple batteries. Non-genuine batteries can cause any damage to the motherboard. Fake batteries are very dangerous!
Rear Camera Replacement
When do you need to change the iPhone camera?
– Camera is shaking
– Focus does not work
– Black dots are on the camera
– It does not work at all
Power Button Repair
This repair is a difficult job, but our technicians can do it within an hour and you can use your iPhone as before.
Front Camera Replacement
If you can't take selfie photos or your iPhone front-facing camera makes you look weird the camera is probably broken. 
Speaker Repair and Replacement
iPhone without any sound is not a useful phone. If the sound is quiet, crackly or distorted, maybe the mesh net needs a clean, but if the iPhone has not got any sound, it will need the speaker replacing.
Home Button Repair or Replacement
All iPhones up to iPhone 8 Plus have home buttons. Sometimes just the fingerprint function or the return function stopped working. If the home button is completely dead, it will need changing.
iCloud provides an easy way to backup iPad or iPhone.
Go to iCloud Settings > Scroll down to Backup. Here you can turn backups on and initiate a new backup immediately. If this is your first iCloud backup it might take a while to complete.
Once the backup is complete, your device will automatically backup when idle for an extended period of time and on an active wi-fi network.
Back up with iTunes
Connect your device to your computer with a USB cable

In the iTunes app click the Device button near the top left of the iTunes window

Click Summary

Click Back Up Now
iPhone Screen Replacement
iPhone 7 plus Fingerprint Repair