The Essential Points
"Original" screens are those containing LCDs manufactured for Apple. "Copy" screens are compatible replacements entirely designed and manufactured by third-party companies not associated with Apple.
We always advise our customers to go for the original screen. The difference in price is generally small, but the quality is far better.
Many other local iPhone screen repair shops and centres don't offer the choice, but aren't clear about the fact they're using copy screens. Some will simply lie about this.
Copy screens are often lower quality in several ways:-

LCD display panel can have a poorer resolution (i.e. looks "coarser"), worse brightness, contrast and vibrancy and reduced refresh rate amongst other problems.
Digitizer (touch) performance is often substandard and probably the largest source of issues with copy screens.
Changes in specification from the original can result in battery and performance issues. Certain badly-engineered screens could even damage the backlight circuitry.
Fingerprint reader– a part of the screen assembly- doesn't always work correctly.
Is There a Difference?
Originals are those screens containing LCDs that were manufactured for Apple. So-called "copy" screens are compatible replacements, but designed and manufactured entirely independently by third-party companies, typically in China.
Our answer is simple- the original screen is the one we'd go for ourselves, every time. Some people think we make more money on them, but this isn't the case. We recommend originals because they're far higher quality and the price difference is fairly small.
We'd rather only fit original screens.
See the Difference for Yourself
Recently a customer came to our store. They'd had their iPhone 6 screen replaced elsewhere, and they really weren't happy with the quality.
We're not surprised. Our photos show a huge difference between the copy screen that had been fitted and a genuine Apple original:
The copy has much lower brightness, contrast and vibrancy– it looks generally "washed out".
The copy screen appears far coarser in normal use. Our microscope closeups make obvious that it has much lower resolution.
When we tried removing it, the frame was already coming off the copy(!)
This may well be the worst copy screen we've ever come across. As a result, the unfortunate customer has ended up paying twice to have their screen replaced- we're sure that had they been properly informed, they would have chosen an original in the first place.
While the difference in price between copies and originals can vary across devices, it's generally around £10 – £20 extra to have an original screen fitted. This really isn't a lot considering the improved quality and reliability.
We compare our prices to our competitors- and we know that we come out of it favorably. We always advise customers to go for the original screen.
When you've spent- directly or indirectly- several hundred pounds for an iPhone with a Retina display, it doesn't make sense to replace it with a lower-quality screen that can make a £800 phone look like a £80 one! Not only that, but you're likely to have fewer issues, and a longer-lasting screen.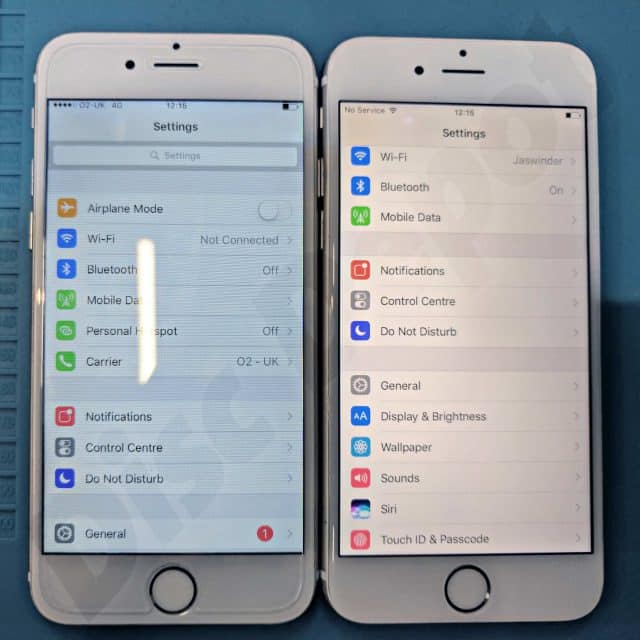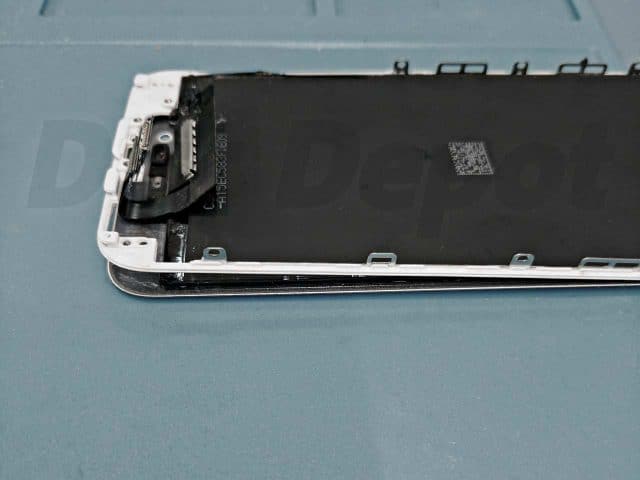 How to Identify and copy iPhone Screen data
At iPhone Repair Base we are always looking to help our customers with their repair experience, so with that in mind, we have written up this post to assist our customers on how to best identify their iPhone LCD screen manufacturer and deal with swapping over serial data to your new screen.
You might ask – why is this important?
Below you will find in full detail why it is important to know this information on certain grade replacement screens.
There are 3 types of LCD screen manufacturers that Apple use for their mobile devices – Sharp, Toshiba and LG. The Sharp and Toshiba LCD screens are cross-compatible and you can use either of these screens on each handset, however, when you have an iPhone with an LG screen then you would only be able to use an LG screen replacement for these LG coded devices. Again, you might be wondering why. Well, if you fit a Toshiba or Sharp LCD to an iPhone that had an LG screen previously then the chances are you will either have no touch function or intermittent touch issues, so you must identify the display manufacturer of your iPhone before ordering a premium replacement.
How can you identify the manufacturer of your iPhone screen?
This can be done easily by downloading a free iPhone diagnostic tool called 3Utools. Once you have downloaded and installed this software, plug any iPhone into your computer and open 3Utools. Once it detects the iPhone, you will be asked to trust the computer on your device. You do this by entering the passcode on the phone, then selecting "Trust This Computer".
After this 3Utools will display information like the below on your computer.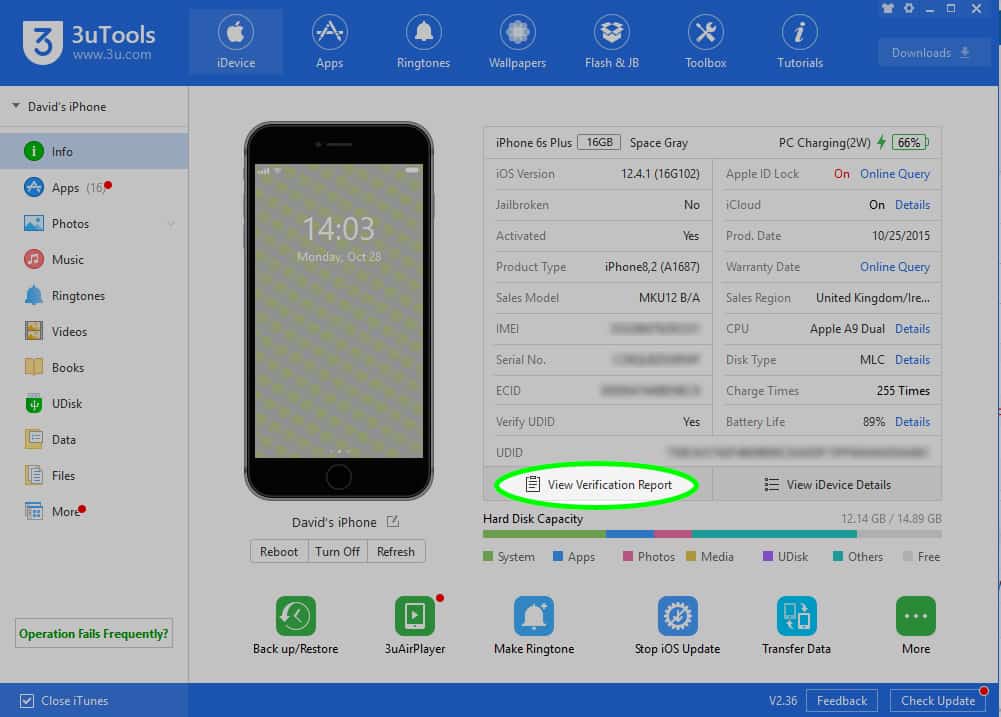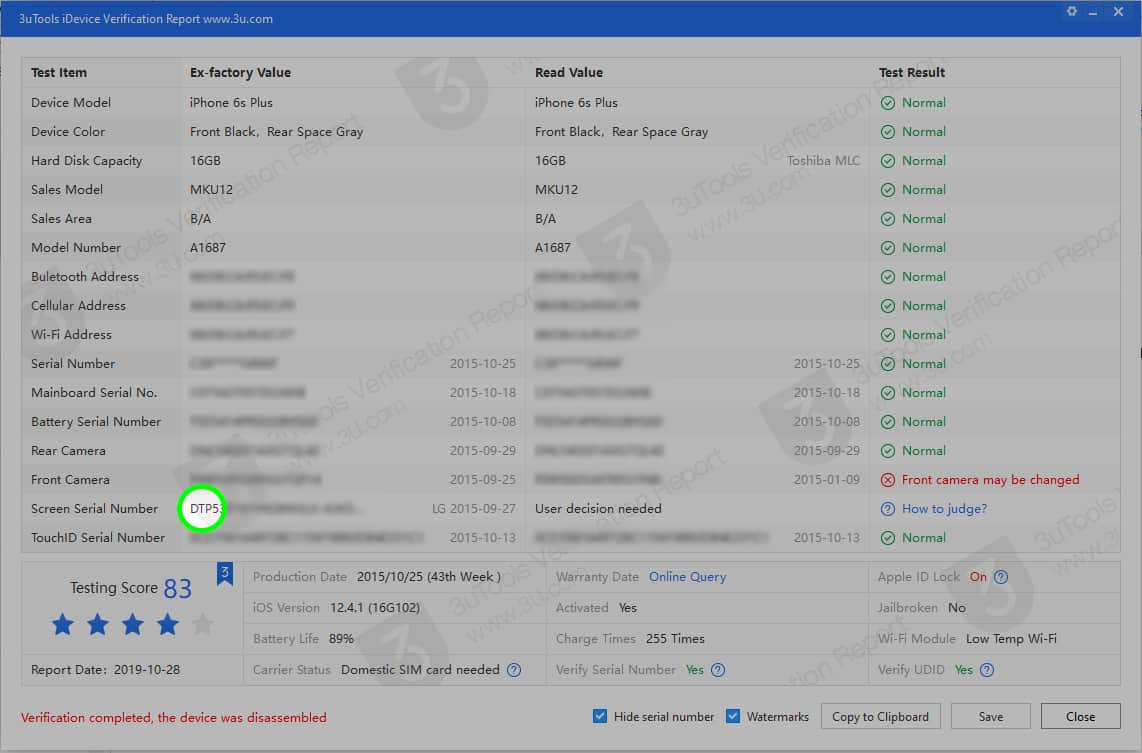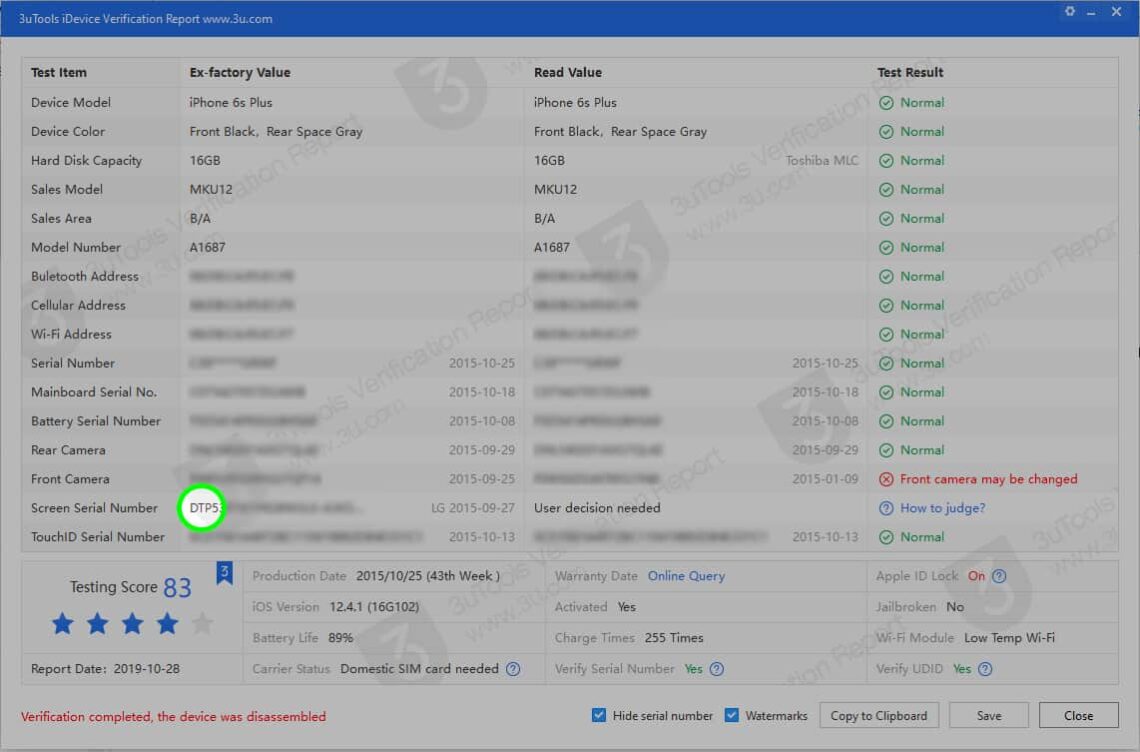 The important information here is the screen serial number as this number will identify your iPhone screen manufacture. The first 3 digits of the serial number could either be a mixture of numbers and letters or just letters and this will indicate the manufacturer. Please see below a list of the first 3 digits to see which manufacturer they represent:
Sharp LCD codes
Toshiba LCD codes
LG LCD Codes
You can see these codes with 3U Tools only on iPhone 7, 7 Plus, 8 and 8 Plus.
You can find these codes on the backlight of the screens on newer iPhones.
Can I copy iPhone screen serial data?
The next thing to do is consider whether you want to take the serial data from your original screen to the new screen prior to fitment – this will help keep your device to an original specification and make sure there is no serial data mismatch should Apple bring out an update which stops existing third party repairs. However, if your iPhone LCD screen serial number matches the serial data that is on the iPhone mainboard then Apple will not be able to identify a replacement screen that has been fitted by a third party. You will need to use a special tool called an EEPROM reader and writers such as the iCOPY or other EEPROM tools – all you need to do is plug your existing screen into this device, read the data, then connect the new screen and write the data; once done the screen will be ready to fit. Once fitted you will be able to check using the 3Utools verification report that the new screen serial number will match the original and the test result will be normal.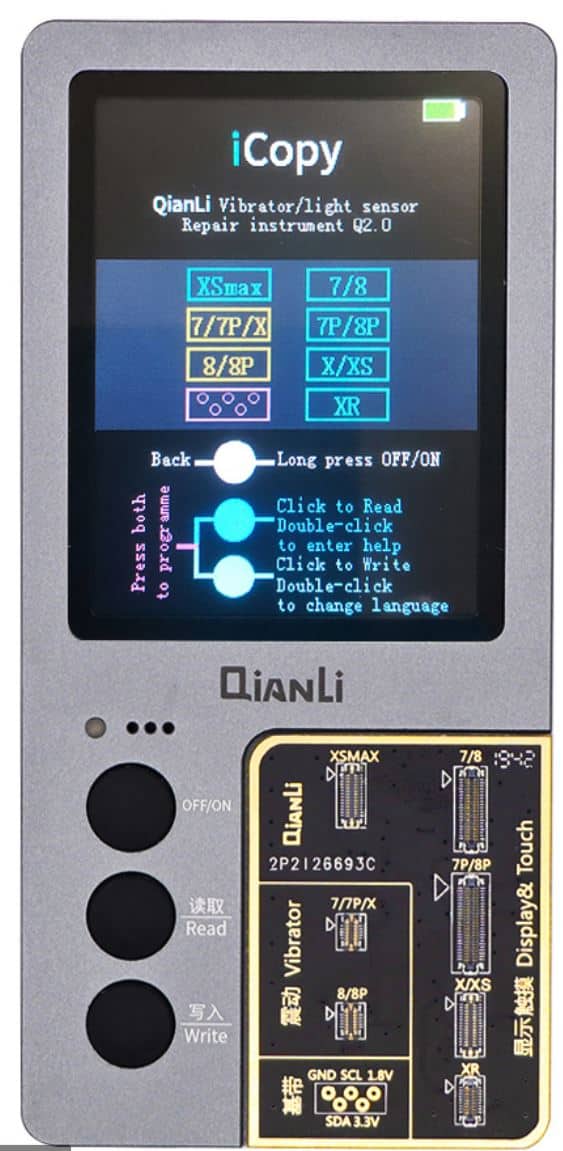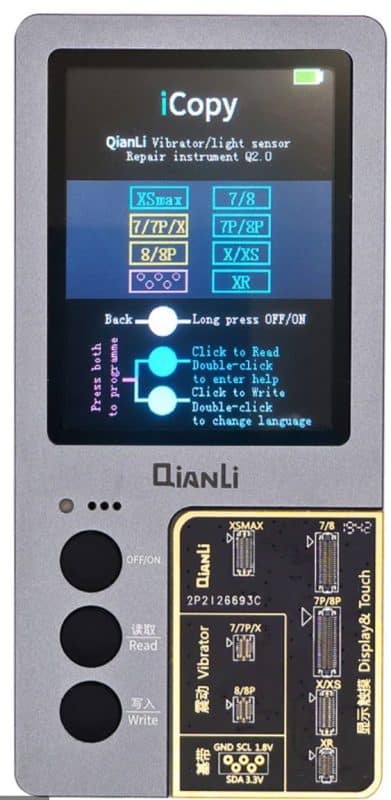 It need to copy all data from the broken screen and write this data into the new screen. It need to use an LCD Screen Photosensitive Data Programmer If the repair shop doesn't use this tool or they are used non-genuine Apple screen the Ambient Light Sensor and the TrueTone function will not work on your phone.
This information should only be used for information purposes. We hope that you find this guide useful.
Please find our iPhone screen replacement prices.