iPhone Repair, iPad Repair Woodbridge Area
Fast and reliable service, quality parts, great prices
Walk-in iPhone Repair from Woodbridge
iPhone Repair By Post near Woodbridge
iPhone Repair Woodbridge – iPad Repair Woodbridge
We know that all people love their Apple devices. Nobody wants to be stuck with a broken iPhone Screen or an iPhone Battery that drains too fast. As a result, we are determined to fix your iPhone or iPad near Woodbridge quickly, using the highest quality parts. We will not only repair your iPhone but give you a 1 Year Warranty on all our repairs.
Let us solve any problems you may experience with your iPhone or iPad in Woodbridge area. We stock all parts, so you don't need an appointment. Whether it's about screen repair or battery replacement, or any other issues, we will repair your Apple device quickly, usually within 24 hours. Quick fixes are usually done within 10 minutes.
Some of the most common iPhone repairs we offer:
iPhone Charging Port Replacement
iPhone Battery Replacement
Rear and Front Camera Replacement
Power Button Repair
Speaker Repair and Replacement
Home Button Repair or Replacement
iPhone Repair Services Woodbridge Area
Find our iPhone Repair Shop near Woodbridge. If you need any iPhone or iPad repairs, visit our shop – you don't need an appointment. You can also send your device via post. Order your Repair Service here.
Our Happy iPhone Repair Customers
Contact the iPhone Repair Base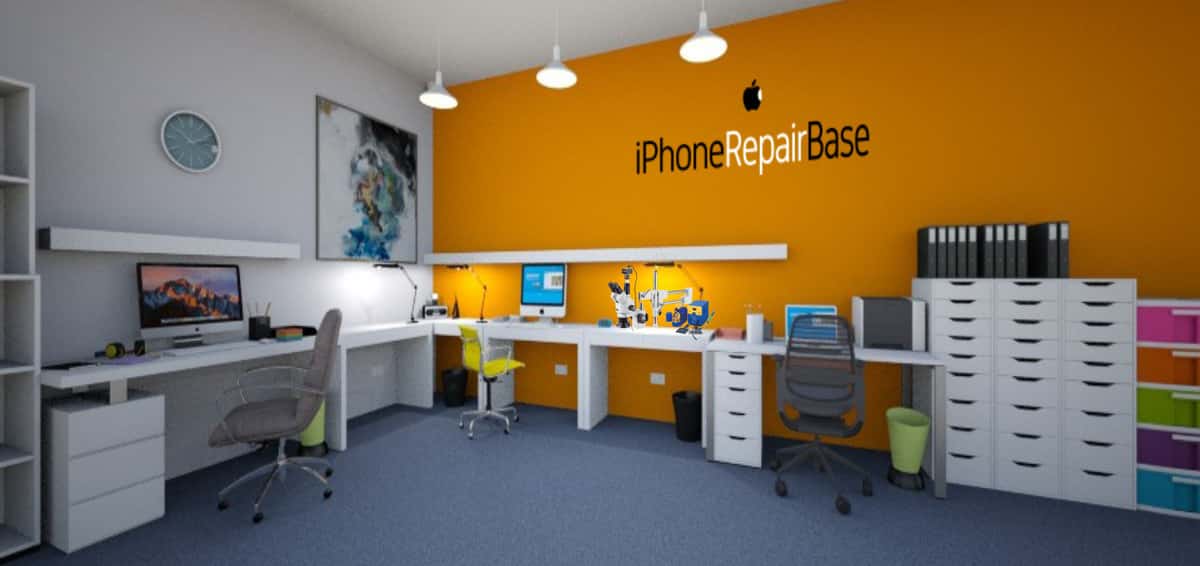 iPhone Repair Base at your service
Our family owned repair shop strives to deliver the fastest repair service and best quality to you.
Fully approved iTechnicians
We are a fully approved iTechnician Repair Centre, so you can feel confident that your Apple device will receive the proper diagnosis and treatment. Remember that diagnosis is always free at our repair shop.
We can fix all types of damage or fault
Do you need an iPhone Charging Port Replacement? Was your rear or front camera damaged? Is your iPhone draining too quickly and you need a battery replacement? Or are there some scratches on your screen so it should be replaced?
Don't worry, we can fix nearly all kinds of damages.
9 years of experience
Our shop has been operating successfully since 2011. We've repaired over 15,000 Apple devices so far, and we are so proud of 5 stars feedback that all of our customers gave us.
You don't need an appointment
At iPhone Repair Base, customer satisfaction is our main priority. We only work with quality Apple parts and 12-month warranty. So when you are looking for an iPhone repair shop near Woodbridge, just drop in during opening hours. You don't need an appointment
We provide the following repairs:
Screen Repair
Camera replacement
Power button repair / replacement
Battery replacement
Side button repair / replacement
Home button repair / replacement
Water damage
We unlock iPhones. You can buy accessories and used iPhone in our webshop.
iPhone Repair – iPhone 11 Pro Max, 11 Pro, 11, XS Max, XS, XR, X, 8, 8 Plus, 7, 7 Plus, SE, 6S, 6S Plus, 6, 6 Plus, 5S, 5C, 5, 4, 4S, 3
iPhone Repair Prices
iPad repair – iPad Pro, Pro 2, Pro 3, iPad Air, Air 2, Air 3, iPad Mini 1, 2, 3, 4, 5, iPad 1, 2, 3, 4, 5, 6, 7
iPad Repair Prices
iPod repair – iPod Touch, Nano, Mini, Shuffle, Classic
iPod Repair Prices
Our iPhone repair shop near Woodbridge provides a quick fix for every iPhone issue you have. Whether your phone needs battery replacement, a screen replacement, or speaker repair, you can trust us for reliable repair services.

If your iPhone or iPad is damaged or won't turn on, if you have problems with the Home or Power button, visit our iPhone repair shop near Woodbridge. We provide free diagnostics and repair your iOS device on demand. We will get your iPhone and iPad fixed properly.
We are so proud of 5 stars feedback that all of our customers gave us.
Yours sincerely,
iPhone Repair Base team
iPhone repair shops near Woodbridge: iPhone Repair Base can fix these issues: