iPhone Repair near Horsham
We are here to help - quality parts, affordable prices, professional service
Walk-in iPhone Repair near Horsham
iPhone Repair By Post near Horsham
iPhone repair shops near Horsham: iPhone Repair Base can fix these issues:
iPhone Repair Horsham – iPad Repair Horsham
Do you need iPhone Repair in or near Horsham? Look no further than iPhone Repair Base. We repair all kinds of iPhone and iPad repair problems. Whether it's about a broken iPhone screen, liquid damage, or battery replacement, we use the highest quality iPhone parts to fix the issue.
We know that it is extremely frustrating when you have a broken Apple device. We use them on a day-to-day basis and they have become an inseparable part of our everyday life. That's why our aim here near Horsham is to fix your iPhone at the best price possible, as quickly as possible.
Some of the most common iPhone repairs we offer:
iPhone Charging Port Replacement
iPhone Battery Replacement
Rear and Front Camera Replacement
Power Button Repair
Speaker Repair and Replacement
Home Button Repair or Replacement
iPhone Repair Horsham
Find our iPhone Repair Shop near Horsham. If you have any issues that needs to be fixed, visit our shop – you don't need an appointment. You can also send your Apple device via post. Order your Repair Service here.
Find our iPhone repair shop near Horsham
The iPhone Repair Base is situated 117 miles from Horsham, in Suffolk, on the East Coast of England.
Our repair shop is in Kesgrave, 3 miles from the centre of Ipswich. If you are coming from the A12, you need to head towards Ipswich on the A1214. After approx. 2 miles turn left onto Bell Lane by the traffic lights, then after 500 yards turn onto Edmonton Close until you reach No. 21 where you will see our sign.
If you are arriving by train to Ipswich, then you will need to take bus No. 64, 65 to reach our office.
Our Happy iPhone Repair Customers
Contact the iPhone Repair Base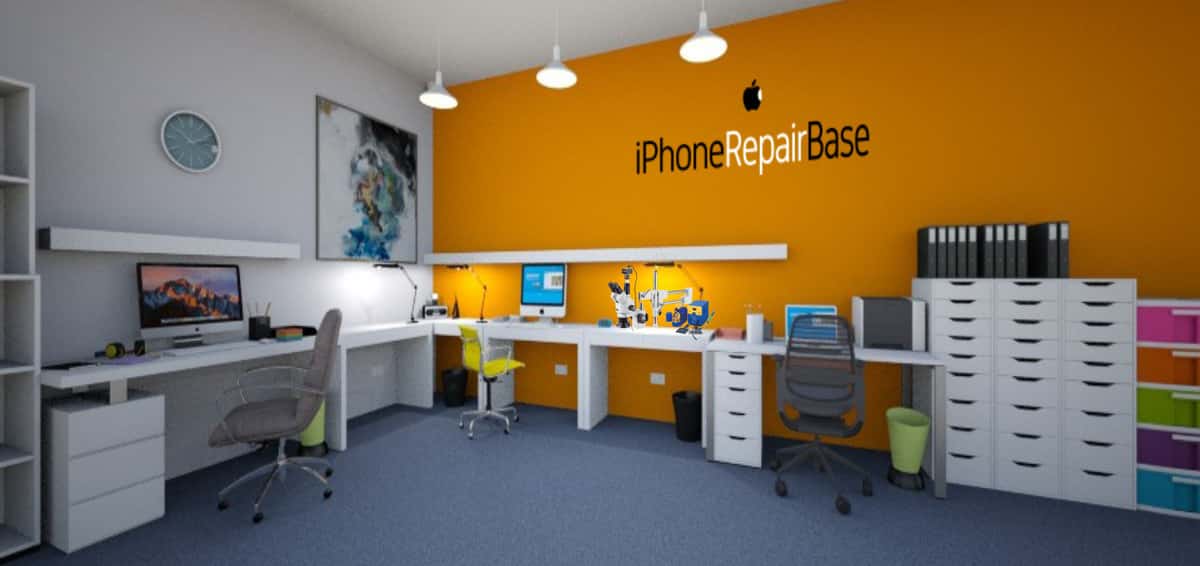 iPhone Repair Base at your service
Our aim is to repair your device as quickly and professionally as possible. We have a professional team, the right training, and optimal equipment to repair Apple devices.
1.Free diagnosis
 We offer free repair price estimates when fixing your iPhone or iPad. We will diagnose the problem and provide an estimate. We'll fix your iOS device on demand. We are a fully approved iTechnician Repair Centre with 9 years of experience.
2. Fast repairs
In most cases we will get your iPhone ready in 10 minutes. Sometimes we need just a bit longer to get your iPhone ready. If there is a big issue to repair, your iPhone or iPad is usually ready in 1-2 business days. As soon as the iPhone repair is completed, we'll be in touch to let you know.
3. 1 year Warranty for all our repairs
iPhone Repair Base offers a 12-month warranty for all repairs.
4. Mail-In iPhone Repairs near Horsham
People near Horsham choose iPhone Repair Base because we offer the highest standards of repairs and quality parts.  You can post your iOS device to us – it will be professionally repaired, and returned with Next Day Delivery.
iPhone Repair – iPhone 11 Pro Max, 11 Pro, 11, XS Max, XS, XR, X, 8, 8 Plus, 7, 7 Plus, SE, 6S, 6S Plus, 6, 6 Plus, 5S, 5C, 5, 4, 4S, 3
iPhone Repair Prices
iPad repair – iPad Pro, Pro 2, Pro 3, iPad Air, Air 2, Air 3, iPad Mini 1, 2, 3, 4, 5, iPad 1, 2, 3, 4, 5, 6, 7
iPad Repair Prices
iPod repair – iPod Touch, Nano, Mini, Shuffle, Classic
iPod Repair Prices