Apple will make iPhone repairs even harder!
Apple Has Activated Software Locks on iPhone Batteries to Discourage Third-Party Repairs
The new idea of "genuine battery protection" may come as news for some. But Apple is in fact just started to utilize a function of their supplied batteries.
This means that the batteries in newer iPhones (for now but probably extended later to all actual models) will not be "user replaceable". Apple wants to force you to either take it to them or their Apple Authorizes Service Provider's repair centre if you want to replace the battery. These are both pricier than the regular repair shops.
According to iFixit:
"By activating a dormant software lock on their newest iPhones, Apple is effectively announcing a drastic new policy: Only Apple batteries can go in iPhones, and only they can install them."
Then they explain further:
"If you replace the battery in the newest iPhones, a message indicating you need to service your battery appears in Settings > Battery, next to Battery Health. The "Service" message is normally an indication that the battery is degraded and needs to be replaced. The message still shows up when you put in a brand new battery. However. Here's the bigger problem: Our lab tests confirmed that even when you swap in a genuine Apple battery, the phone will still display the "Service" message."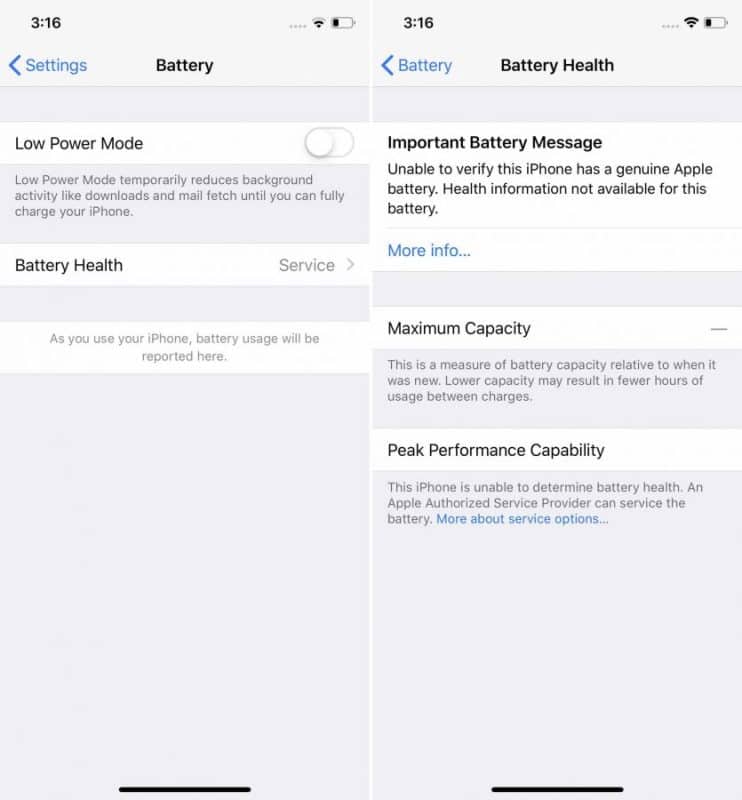 Then they what is probably well known for anyone who dealt with Microsoft product issues before:
"It's not a bug; it's a feature.."
In short, if you replace the battery yourself or anyone who doesn't possess the genuine Apple tools required for "authenticating" the battery the phone will never show it's battery health and will always report an error on it.
But for now, this issue was only recreated on the iPhone XR, XS and XS Max running iOS 12 and the iOS13 Beta. Since the option to enable that is already there in some previous devices, apple surely won't miss this opportunity.
Apple obviously has a reason behind this, right? Well….. they say it's getting introduced with the customer's protection in mind. This as they say, will help the customers by always giving them genuine apple parts. Plus will avoid any further damage caused by knockoff batteries. To some extent we are happy to agree with that! But the idea is overshadowed by the fact that even if you use a genuine battery bought from Apple. Without the proper Apple-provided tools and authorization, you won't be able to properly change the battery.
All we at iPhone Repair Base can tell you for certain is that we will still be able to properly change the battery of your iPhone. No matter the changes made by Apple! Oh and don't forget…. we will still do it while you wait and still provide a 12-month warranty!.